At Open Badge Factory, we believe that the success of Open Badges requires more than just issuing an increasing number of badges. It is, of course, pleasing to observe that the number of badge issuing organisations has increased around the world, but we have to keep in mind that in the long term, the success of badge strategies depend on the value that badge holders can get from their badges. This question has been the guideline for the development of Open Badge Passport (OBP).
OBP has been designed to be much more than a simple badge repository (or backpack). It is a personal learning environment and a social platform, where badge earners can grow the value of their badges, enrich them with additional evidence, get them endorsed by other community members and build the story of their learning by setting up easily shareable micro-portfolios.
Open Badge Passport is a social platform where users interact with each other at an individual level, but originally OBP was not designed to support and manage community-level collaboration. To simplify, until now Open Badge Passport has been like Facebook without Facebook groups. However, the new space feature is changing the deal and bringing a community level dimension to OBP.
The idea behind the space feature is to provide organizations and networks with their dedicated passports inside the generic Open Badge Passport. In a space, users become community members. They can easily see other members and interact with each other. Although spaces can be closed and their access controlled, space members' activities are not restricted. It is possible to be a member of several spaces and still see all that happens in Open Badge Passport and manage one's badges, pages, profiles, and connections. Joining a space is always a personal choice, members can accept or reject space invitations and leave a space if they wish.
For organisations and networks, spaces open the possibility to support and manage their communities. Space administrators can see reports and follow how their community grows and evolves. Badges work as micro-communities or groups inside the space community, and administrators can send notifications to members based on the badges that they have got. Being able to send a message or propose or assign a task to all members of the space, or only some of them is a new mechanism that opens, for example, for tutors the possibility to assist or support members when engaging in different professional or personal development pathways.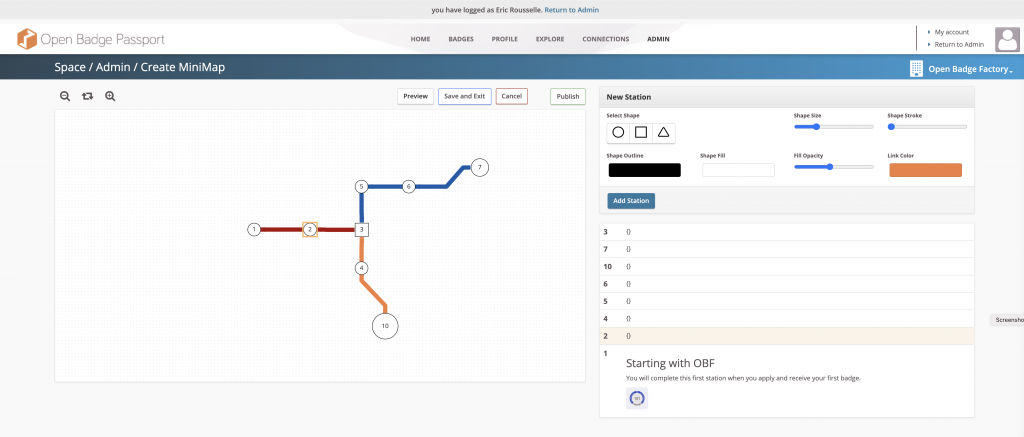 A tool named minimap is a space feature that has been designed to make visible and support development pathways. A minimap works like a metro map. The creator of the map sets up stations and places them on lines that can cross each other. The idea is that each station contains an objective which is usually expressed with one or several badges. To some extent, minimaps are like graphic representations of milestone badges. The main difference between milestone badges and minimaps is that minimaps can be built with badges created by several organizations, not only by one issuer. Creators of minimaps can publish their maps in the OBF explore section, in their spaces or assign them only to some users. They can see who has engaged in their maps and follow their progression at the personal or group level.
Spaces are opening the possibility for organisations and networks not only to have a community view of their badge recipients but also to assist or guide them. The minimap editor developed in collaboration with the CIBC de Normandie is one of the first elements in this direction, but more tools and services will be implemented in the future.
If you want to learn more about Open Badge Passport's spaces and minimaps you are welcome to our next OBF Academy webinar!
A webinar in English is on May 18th at 3 pm BST.
A webinar in French is on May 19th at 15.00 CEST.
A webinar in Finnish is on May 20th at 15.00 EEST.