Dr Wayne Gibbons is a lecturer in the Department of Building and Civil Engineering at the Galway-Mayo Institute of Technology (GMIT), Galway, Ireland. He became interested in Open Badges in 2015. He says:
"We work within a 'grade point' system for our formal recognition, and until I discovered open badges there really was no other way to recognise/reward students for behaviours and skills that fell outside of formal assessment."
He first heard about badges at an EdTech conference in Galway in June 2015, where Dr Doug Belshaw gave a keynote about badges. Dr Gibbons instantly saw the potential for them to help reward the elements that were falling through the cracks of the percentage grade system. He could identify events and interactions that were happening in class (for example peer learning) that are vital and important, but which were going unrewarded. He saw the potential for badges as a mechanism for recognising, rewarding, and promoting that type of behaviour.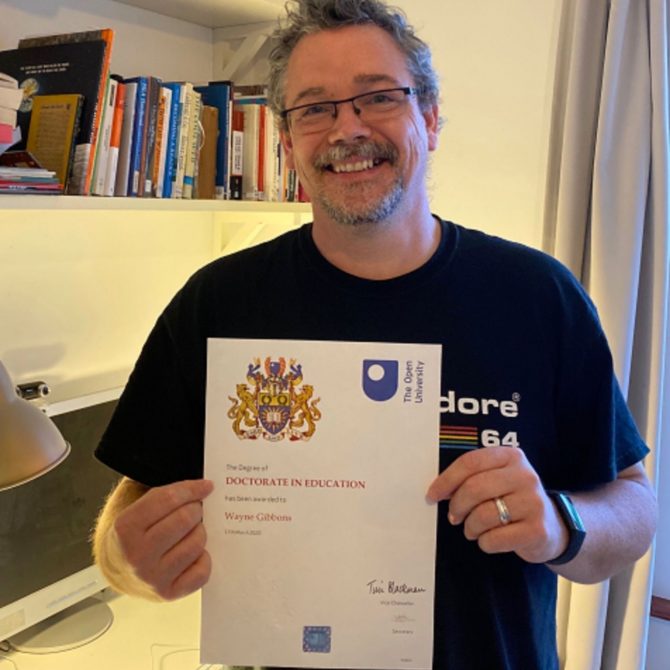 Doctoral study and GMIT's badges
GMIT's Open Badge strategy emerged from Dr Gibbons' initial encounter with badges in 2015. He spent about 6 months trying things out in a very informal way with badges. However, the strategy really began when he commenced his Doctor of Education research in May 2016. At that time, he was the only member of staff at the institute using badges within a degree programme, and one of a very few in the country doing research into them. The strategy began by aiming for a collaborative approach, so he included students, lecturers, institute management and an employer in his study, to gather the views from key stakeholders. This led to the development of a suite of badges to be formally trialled on an undergraduate module (Year 1 Civil Engineering).
Dr Gibbons says:
"the OBF has been a great platform for us at the GMIT. At the time when I was starting out in 2015, I looked at the platforms that were available at the time, and the OBF ticked more boxes than the others."
He explains that this was for several reasons: it is based in the EU, so he knew there would be no issues around GDPR; it allows for multiple recipients at a single issuing instance; it supports a plug-in for Moodle, and the customer support and help he got when starting out was excellent. He has recommended the OBF to his immediate colleagues and others outside of his organisation.
Dr Gibbons explains that the primary recipients of badges throughout the doctoral research study were the students on the Civil Engineering degree. This took place over one academic year (2017/18). However, ongoing in parallel to that were several workshops and webinars that he developed for staff. These consisted of information sessions around what badges are and how they can be used. These were generally around 1-hour in duration, but a number were extended to include some training on the software skills required for designing, developing, issuing, and receiving open badges. The attendees at the workshops and webinars were issued with open badges to recognise and reward their continuing professional development. At this point, because the roll-out to students taking part in the trial was for only one academic year, the balance between badges issued for staff CPD and for student reward is about 50-50.
Within the doctoral study the open badges that were issued included ones related to assessment, peer-learning, mentoring, 100% attendance at classes and skills mastery. In addition to the usual 'best in class' and 'high achiever (over 80%)' badges associated with assessments; Dr Gibbons included two other badge types. These were 'improver' badges available to any student showing a grade improvement between two consecutive assessments, and a 'level-up' badge for skills mastery. The way that worked was that if a student felt their performance in an assessment was not up to their expected standard, they were allowed a second attempt in their own time. This second attempt did not affect their grade (the first attempt was the recorded grade), but if it was to a higher standard than the first attempt, they were eligible for a 'level-up' badge to recognise their work on lessons learned. Dr Gibbons says that the employer was very keen on this type of badge, as he said it indicated a work ethic that would be invaluable in the workplace.
In relation to peer-learning and mentoring, Dr Gibbons created a set of 'buddy' badges, which the students could nominate each other for. The nominations had to be based on an instance where one classmate was helpful to another. The student who was helped could nominate their helper for this type of badge. The student with the highest number of nominations at the end of the year was the awarded a 'best mentor in class' badge which was endorsed by the employer.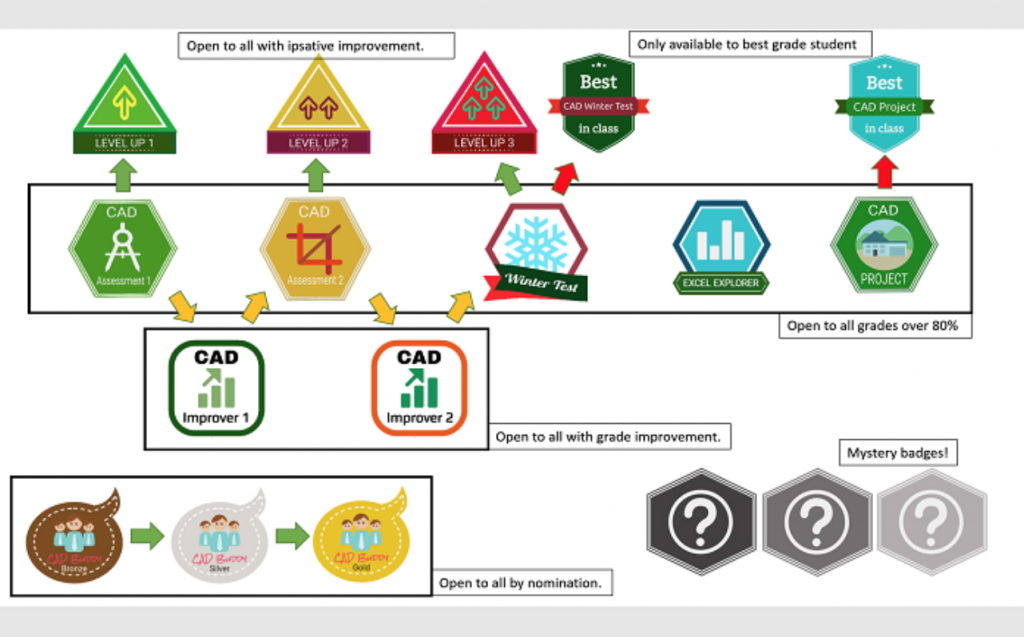 The full suite of badges used in the doctoral study
Dr Gibbons thinks that the biggest challenge they are facing is getting the balance right between quality assurance for the badges and the flexibility needed to implement them. The badges that are branded by the institute require quality assurance to ensure they are appropriate and are being awarded for the right reasons. This will require the development of a policy framework for open badges at the GMIT, and there is a small group of people actively working on this. Dr Gibbons' concern is that if the process becomes too rigorous, or means that badge development takes too long, then they will lose out on some of the 'ad-hoc' badges that can also be very valuable. There is a distinction to be made between badges offered for 'reward' by the 'institute' and badges offered for pedagogical reasons by the teacher. Both are valuable, but the latter requires flexibility and speed of development.
Reception of Open Badges
Dr Gibbons describes that a small number of people became interested in open badges shortly after he started spreading the word about them, but he thinks there was a fair bit of scepticism too because they were a bit of an 'unknown'. Over the course of his doctorate research, and when he began drawing conclusions from the findings, that scepticism began to recede. He says that those who were aware of his research were always very positive towards open badges, as they could see the potential that he could see. Since his thesis was published, and he could more publicly talk about the implications of the research, that positivity has increased beyond those initially interested, and now there are about 50-60 staff members actively interested in using open badges within their classes. Dr Gibbons says: "the students, management and employer have also reacted very positively to the use of open badges within the module where they were trialled. One of the major findings is that the badges have increased student motivation and engagement, which are two key factors in student success".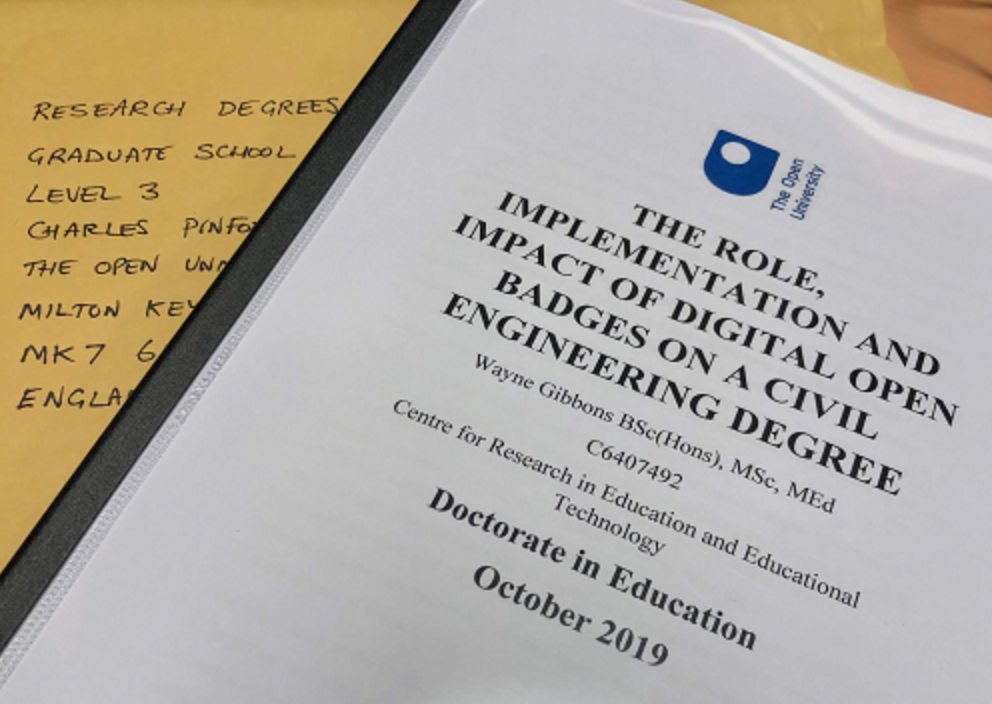 EdD thesis: The Role, Implementation, and Impact of Digital Open Badges on a Civil Engineering
The students have reacted very positively, with a significant majority saying that they enjoyed earning badges and would like to see them used in other modules. Many can see the motivational effect that badges can have, and they have reported that the presence of badges has made them change their behaviour in terms of trying to achieve 100% attendance at classes. The students have also recognised that the badges can be used as a tool for creating links to employability, so the badges have had a range of positive effects for them.
Dr Gibbons states that the Open Badge Passport (OBP) is an excellent companion to the Open Badge Factory (OBF). As part of the doctorate research, he included an 'on-boarding' badge which each student was eligible for. He dedicated some class time to show the students how to claim that badge and create an OBP account to receive and manage their badges. The fact that the badges can then be easily shared out from the OBP makes it very useful as well as easy to use. At the most recent webinar that he ran for his colleagues, he showed the OBP interface and suggested they create an account there for themselves so that he could issue the webinar badge to them. They all did this, and one of them later asked him about importing some badges she had received from a different platform into the OBP as she found the OBP to be a better repository for her.
Future
Dr Gibbons thinks that the future looks very promising for Open Badges at the GMIT. He thinks this is down to two things. Firstly, more teachers are becoming aware of open badges because they are seeing them in various online courses that they are doing for CPD. And secondly, the impact that open badges can have on the engagement and motivation of students has now been proven at a local level as a result of his doctorate. The strategy is still a work in progress, but there is a good level of interest and willingness to work towards making a guideline document that accommodates flexibility with quality assurance.
Dr Gibbons' thesis can be found at this link
Dr Gibbons' webinar presentation "Badging for Success" can be found at this link